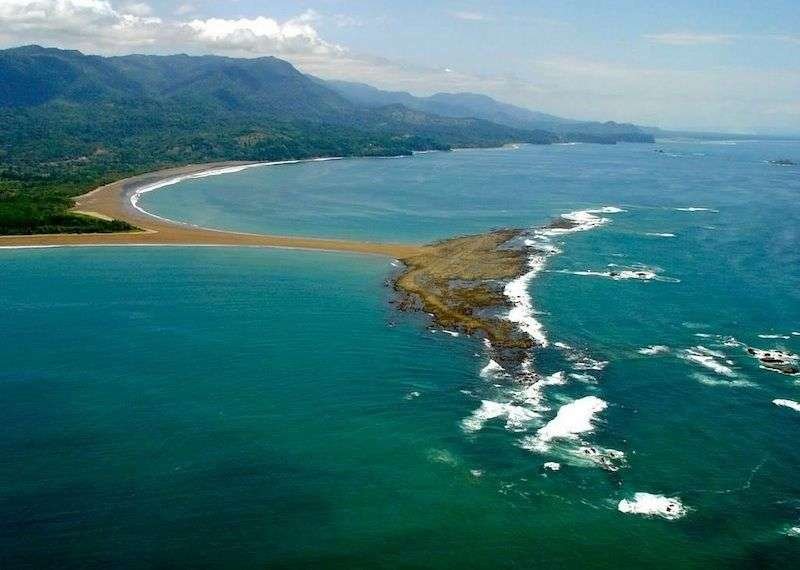 PLAYA UVITA
Playa Uvita, also known as Marino Ballena National Park is located in Bahía Uvita, two miles east of the South Coast. It is among the most beautiful idyllic beaches on Costa Rica's southern Pacific coast, the beach rimmed with palm trees. It is an excellent surfing spot for beginner surfers, as it has relatively calm waters.
The entry fee to the Marino Ballena National Park is $ 6 for foreigners and $ 2 if you are national or resident. Keep your ticket; it allows you to access Playa Uvita, Playa Colonia, Playa Ballena, and Playa Piñuela that same day. The Park is open from 7:00 am to 4:00 pm every day.
At low tide, the beach stretches out and you can walk along the legendary sandbar and rocky reef resembling a whale's tail. At high tide, the beach is eaten up by the tide and you can watch from the beach's edge as local surfers meet up for an after-work surf session.
If you want to walk on the plunger or Paso de Moisés you should do it at low tide.
Find here the information about South Pacific Costa Rica tides chart >>>
You can also walk along the road behind the tree edges and find many diversities, such as the Eucalyptus Forest, now regenerated.
You can also sight monkeys, such as the Capuchin, and birds, such as the Scarlet Macaw. There are many trees, perfect for a hammock set-up, so bring a good book and get ready to relax. Don't forget to look up before setting up, many palm trees have coconuts, so be sure to place yourself not directly underneath the palm trees.
Remember, it is not allowed to take any kind of shells or plants within the Marine Park.
What to do, Where to eat and Where to stay…
Looking for business directories, maps or other printouts? We've got that too!
The spectacular family of poisonous frogs (Dendrobatidae) surprises with its beautiful and colorful and lethal frogs. In Costa Rica, we have eight species of poisonous frogs. Those of the genus "Silverstoneia" and "Allobates" are not […]
Continue reading
With cutting-edge technologies, more awareness, and knowledge, a sustainable and healthy world no longer seems a utopia. However, although the economic and political force continues to stalk and prescribe mass crops, accompanied by the harmful […]
Continue reading
Herons: Surely you've ever seen a bird with long legs and beak. Its neck seems to bend and extend dramatically. With all the patience in the world, it remains still near the water waiting. With […]
Continue reading