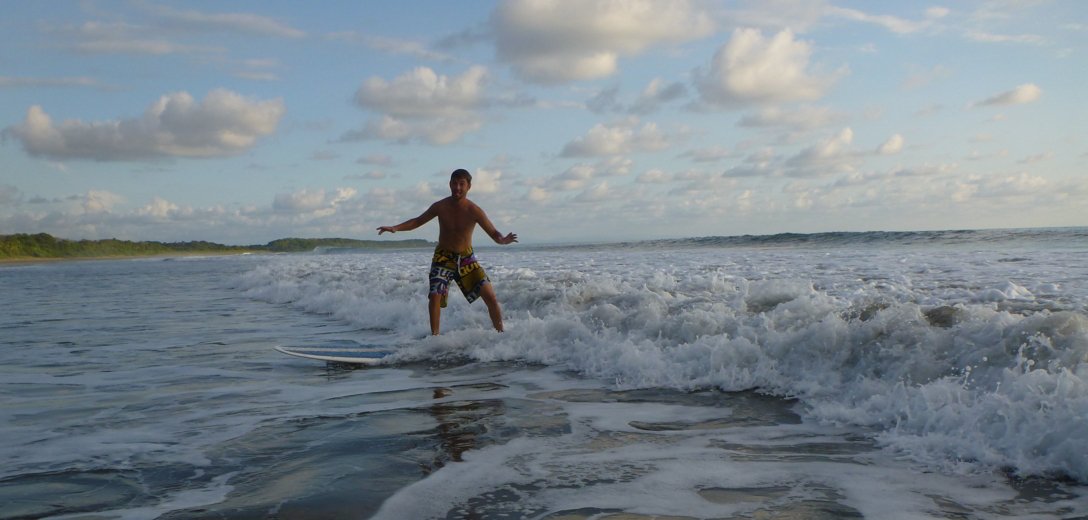 Playa Hermosa – one of the most beautiful and largest beaches of Costa Ballena
By Andreas Reinschmidt
Playa Hermosa, as the name suggests, is one of the most beautiful and largest beaches of  Costa Ballena. Up on the hill, there is also a community named after this gorgeous beach. Being a very small community, the atmosphere in the village of Playa Hermosa is peaceful. Here is where you can actually experience the typical rural life.
So what do young people do here in their leisure time? Just what other youngsters all around the world would do if they live near the ocean, "they surf."
Carlos Eleander Guadamuz is one of them. He has been in this community his whole life. When he was younger, he even surfed in tournaments with all kinds of surfboard types. Now, he wants to share his knowledge with visitors interested in surfing.
Carlos can spot every detail in your performance and suggests corrections in a friendly way, maintaining coolness and patience. With him, you will not just be thrown on the water with a long board, but you will be individually assisted with great-qualified advice as you make your first attempts.
Whether you are a beginner or a more skilled surfer who wants to improve his style, you can learn a lot from him. He will take you to more secluded areas within the beach so you don´t have to worry about hurting swimmers while surfing.
And guess what? Once you get tired, you can have a snack together and talk about surfing! So come to Playa Hermosa, where you will find the exact right mixture of beach life and the tranquility of our community.
You will enjoy it very much!
Read more about Costa Ballena beaches