Snorkeling in Costa Ballena and Caño Island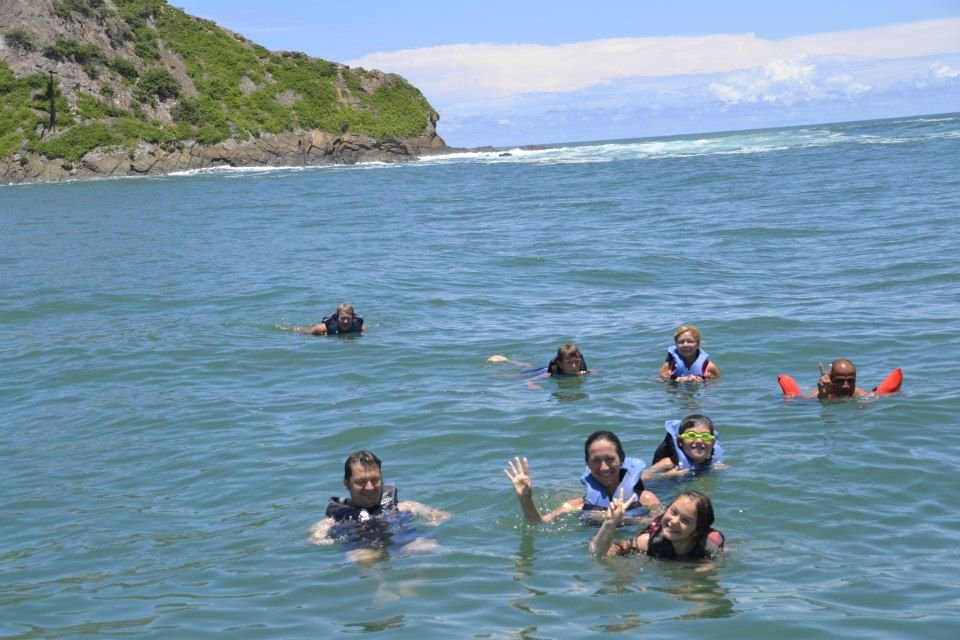 Snorkeling Tour #1: Caño Island
Caño Island biological reserve is located in the Pacific Ocean, 15 km. off the OsaPeninsula. The border of the island has white sandy beaches and a well protected inshore reef, turning this island into one of the best spot in Costa Rica for scuba diving and snorkeling, offering to snorkelers and divers about 20 meters (65 ft) of visibility all year around and a lot of species of fish, turtles, mantas, dolphins and whales.
A well-maintained trail leads uphill into a rain forest environment, where you can see trees up to 50 meters tall, pre-Columbian tombs are scattered along the trail. The island was used by ancient indigenous people of the southern zone of Costa Rica as a burial site where many of the mysterious spherical stone of different sizes were discovered after Columbus arrived.
This full day tour starts at 7:00 am and you´ll be back in Bahía Ballena or Sierpe around 4:00 pm.
Price includes:
• Professional guide
• Lunch
• Snorkeling equipment
• Entrance CañoIsland
• Boat
One day Tour from Manuel Antonio
Departs: 6 am Returns: 6 pm
Prices includes:
Transportation in boat and bus
Naturalist Guided Tour
Park Entrance
Lunch
Packages 2 Nights, 3 Days
Departs from Sierpe: 11 am or 3pm
Price includes:
2 nights lodging
3 Meals for day
Transfer in boat Sierpe-Hotel-Sierpe
Naturalists guided Caño Island Biological Reserve including transportation, lunch , snorkeling equipment, transfer in boat and entrance,
Guided hike to Punta Rio Claro National Wild Life Refuge.
#2: Marino Ballena National Park
The waters surrounding Marino Ballena National Park are ideal for whale and dolphin watching, as the clear, deep blue water allows for easy viewing. The most frequently spotted species in this area include Humpback and Pilot Whales Bottlenose and Spotted Dolphins and other marine life.
As always with this type of tour, the presence and exact location of these sea creatures are unpredictable. Although sightings cannot be guaranteed, they are frequent in these waters.
This tour starts at 8:30 am in the entrance National Park Marino Ballena and you 'll be back around 12:00 am.
Duration: 3-4 hours
Price includes:
Boat
Entrance to the park
Guide
Drinks and Fruit
Snorkeling equipment
One day Tour from Manuel Antonio
Departs: 7:30 am Returns: 4 pm (six pax minimun)
Prices includes:
Transportation in boat and bus
Guide
Park Entrance
Snorkeling equipment
Drinks and Fruit
Lunch
One day Tour from San Jose
Departs: 5 am Returns: 8 pm
Price includes:
Transportation in bus and boat
Guide
Park entrance
Snorkeling equipment
Drinks and Fruit
Lunch
Package 1 Night, 2 Days
Departs: 8 am
Price includes:
1 night lodging
The second day breakfast
Park entrance
Snorkeling equipment
Drinks and Fruit
Guide
Snorkeling tour by kayak
Lets go ocean kayaking! We love Uvita and we enjoy showing you our national parks beauties. We take you to the beach from where our experienced guide explais to you our safety guidelines, we pride ourselves on our outstanding safety record. From the beach we kayak to our secret snorkle spot, we spent about 1 hour to 2 hours there. Our guide shows you all the diffirent types of aquatic wildlife that inhabit the area. We move from our snorkle spot to the marini ballenas mangroves that offers some of the best bird watching in the national park. We spot the common kingfisher, the American pygmy kingfisher, and many other beautiful birds. From there We take our time and go back to the beach and take you back to your hotel.
Duration 3½ – 4 hours
Price includes:
English speaking guide
All our safety equipment on board at all times
Park entrance fee
fruit and water
Laminated guides with all the fish and local wildlife
Snorkel equipment
Snorkeling Tour #3: by Kayak in Golfo Dulce
Enjoy a guided kayak trip through the pristine, flat water Golfo Dulce. You and your guide will look for dolphins ( Spotted, Spinner , and Bottlenose Dolphins) ,turtles, rays and a variety of birds. You will then stop for a relaxing break, snacks and a swim on the nicest swimming beach on the Osa Peninsula.
Tour time :2 or 3 hours
Price includes:
Guide
Water
Fruits
Snorkeling equipment
Kayak
What to bring:
Sun block
Bug repellent
Shoe style sandals
Camera
If you need transportation we can offer you from San José, Manuel Antonio or other place.
For more information or to make a reservation, contact us at [email protected]